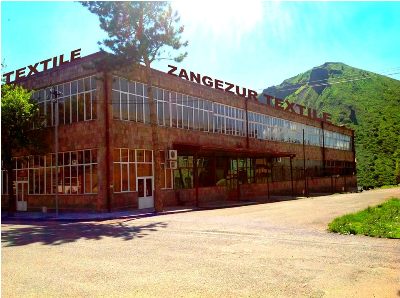 Armenian Goris local industry combine was formed at the basis of the buzz factory according to the decision of Armenian Soviet Minitrers' N 1114, 30.12.1996 and Local Industry Ministry's 28.01.1967 N 16 decision.
Afterwards in 1967 according to the decision of Local Industry Ministry's N 1 decision on 13th of January the combine was renamed as " Zangezur Manufacturing Union". The union had brenches in southern cities of Armnenia: Sisian, Eghegnadzor, Jermuk, Meghri, Agarak, Qajaran, Artsvanik, Goris and in villages: Sevatanc, Bayandur, Khanatsakh.
In 1991, March 1 the combine was again renamed as" Zangezur combine" and its brenches were separated as separate units.
In 13 July, 1995 according to the Combine's director's decision the combine was liquidated and was as " Zangezur Closed Joint Stock Company".
In 08 February, 2003 it was renamed as" Zangezur Textile" Closed Joint Stock Company.
Till 1991 the combine had been producing sewing products, uniforms for women, different kinds of bags, artificial Christmas trees. The products have been consumed in different cities of Russia and in Middle Asia.
The combine also had wood processing and processed metal products which have been consumed locally.
In 1991-2001 we have been producing different kinds of military uniforms based on Armenian State Defense Ministry's orders.